Roll form machines are designed to make sheet metal into straight formed shapes. The process is a flat sheet of metal is power fed through a successive series of Hardened Steel Rollers, which station by station shape the metal into a finished shape as it passes through them. This method allows for rapid shaping of sheet metal into many shapes. From simple corrugations to completely closed long shapes. The metal is gradually shaped preventing too much stress on a a particular area. Because the shaping happens by drawing, in many cases, coiled sheet metal through the machinery, high volume production is possible.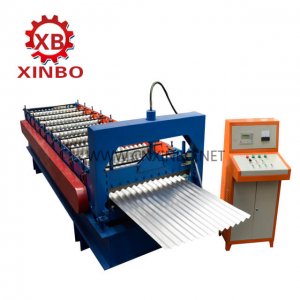 Roll Form Dies (above) are precision made for each job.  Each station (below) might have a unique roller die, which progressively bends the sheet metal as it is drawn between the rollers. This allows for very clean forming of the metal into profiles. Of course the shapes are basically straight profiles. Sometime symmetrical, but not necessarily.
A Roll Formed Part  The successive rolling through the roller dies allows for profiles that are closed or open. These profiles have enormous application in manufacturing, commercial building, aerospace and other applications. Parts can be fabricated from aluminum through 6 gauge steel (1/2″ thick). They are rigid, with very high strength.
Additional operations can "pre-punch" holes in precise locations for mounting holes or to reduce weight of the final shape. "Notching" is another operation that can either punch through or punch part of the metal out from the surface.
Flying Cut-Offs Speed Processing.  Shapes can be cut to precise length after they are done with the "roll forming" part of the system with a "Flying Cut-Off". This style of "Cut-Off" allows for cutting, while the system is still moving the sheet metal through the roller dies, increasing throughput.